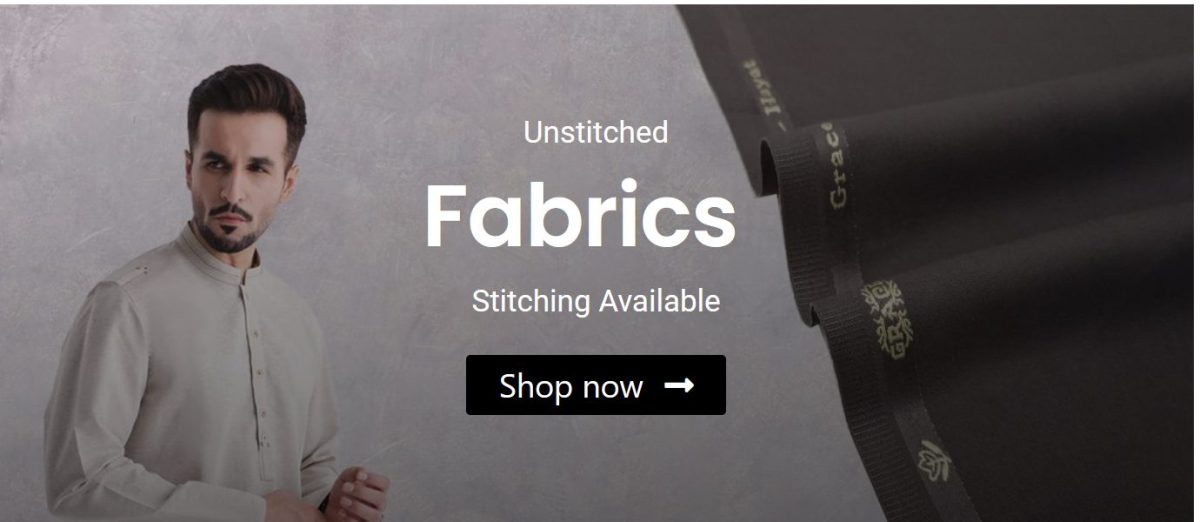 Improve Your Style with Online Shopping at Abbas Cloth House for AHMED Fabrics for Men
Welcome to Abbas Cloth House, where you can discover AHMED Fabrics for Men exclusively. Accept the refinement and elegance of the AHMED Fabrics Wash & Wear collection, which is now easily shoppable online at abbasclothhouse.pk. Improve your wardrobe by adding items of the highest calibre that showcase your individual sense of style.
Where Quality Meets Fashion at AHMED Fabrics:
We at Abbas Cloth House are proud to present to you AHMED Fabrics for Men, a line renowned for its superior materials and flawless construction. Each piece in our collection is a work of classic fashion art that oozes grace and refinement.
Take Advantage of Easy Online Shopping:
Shopping for AHMED fabrics has never been simpler thanks to abbasclothhouse.pk. Browse our carefully picked assortment to discover a variety of designs, colours, and styles. Take advantage of online shopping's simplicity to locate the ideal outfit that complements your unique style.
Unmatched Comfort and Style with AHMED Fabrics Wash & Wear:
Discover the luxury of the AHMED Fabrics Wash & Wear range, the ideal marriage of convenience and elegance. Our Wash & Wear clothing offers unmatched elegance, making it perfect for both formal and casual settings.
Improve Your Style Using AHMED Fabrics:
With AHMED Fabrics for Men, make a strong fashion statement. Our selection has clothes for any situation, whether it be a business meeting, a social event, or a casual outing, so you can always enter a room with poise and assurance.
Visit abbasclothhouse.pk to shop online:
Learn about the AHMED Fabrics for Men's newest styles and timeless patterns by visiting abbasclothhouse.pk. You may enjoy the thrill of purchasing high-end clothing that precisely matches your personality thanks to our user-friendly online shopping platform.
Discover the Excellence of AHMED Fabrics:
This Fabrics brand is a symbol of distinction in men's fashion, and Abbas Cloth House is pleased to introduce this prestigious brand to you. The clothes from this Fabrics are a true representation of our dedication to providing the finest for our esteemed customers, with a focus on quality and attention to detail.
Shop now to refresh your look:
Explore Fabrics for Men at Abbas Cloth House if you have the chance. With the class and sophistication of this Fabrics Wash & Wear range, elevate your outfit. Visit abbasclothhouse.pk right away to enjoy the ease of online purchasing and the luxury of Fabrics. With this Fabrics from Abbas Cloth House, redefine your sense of style and enter a world of grace and fashion.