Showing 1–12 of 66 results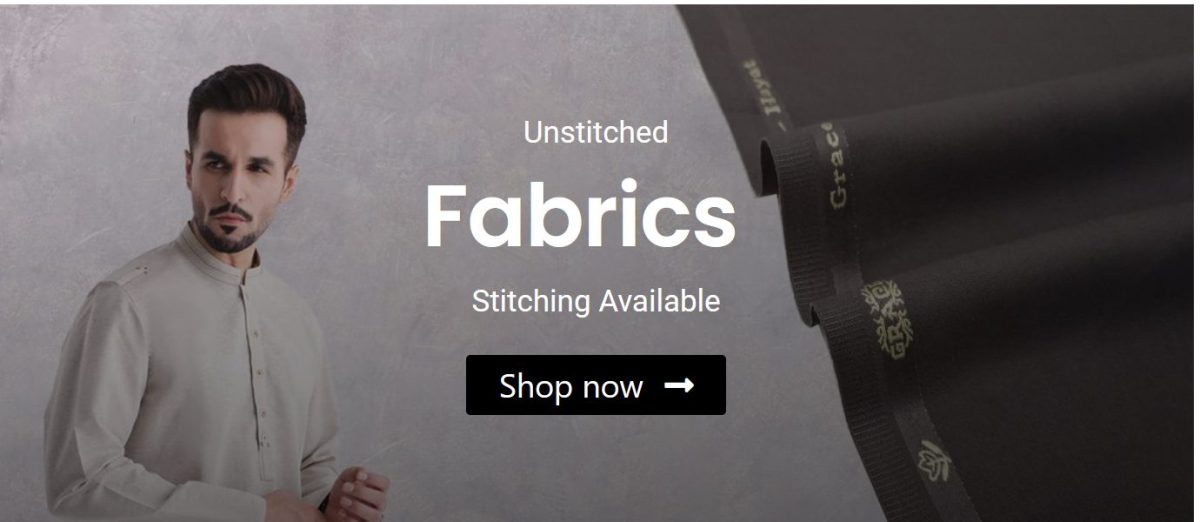 Unstitched grace fabrics in Pakistan
Exceptional quality, style, elegance, and perfection are all aspects of Grace. Grace's fabrics are woven from some of the best materials on the market, then handcrafted and dyed so that the end result exceeds the expectations of customers. A leader in men's unstitched fabric, Grace is a name you can trust. With cutting-edge technology and a highly qualified and dedicated design and manufacturing team, they have paved the way for progress and excellence. As a male who strives to look best, embrace the cultural look of today's modern age. With Grace Fabrics, you can expect to find fabrics that are chic, contemporary and classy. When they use sophisticated patterns and colours, they instil a sense of pride in our customers, which boosts their self-esteem. The look that men's traditional clothing truly deserves can only be achieved through a high-grade fabric.
We Abbasclothhouse.pk are the number one supplier of unstitched Grace Fabric for men. This top-of-the-line unstitched fabric is the answer to all types of unstitched fabric requirements. The brand name Grace Men's Fabrics in Pakistan is associated with high-quality fabrics for men of all ages. Their products are made from high-quality fabrics. Thanks to its trendy and premium collections of high-quality fabrics, Grace has become one of the most highly appreciated brands. For men, it makes fashionable suits, shirts, and kurtas. The brand presents traditional Asian culture to customers while staying up-to-date with the latest fashion trends from the east. Our new Grace Summer collection is perfect for men who like to look great at all times and want to wear clothing that shows a touch of exceptional perfection.
High conventional standards are applied to this eco-friendly fabric. This ensures that clothes made of 100% cotton are of very high quality. Featuring delicate floral patterns, this collection is an ideal addition to your summer wardrobe. The outfits are embroidered by hand using traditional methods. The Grace Online Clothing Store of Abbasclothhouse.pk allows you to purchase all of the garments of the grace brand. This fabric is the most stylish and comfortable available in Pakistan. In terms of its premium suits, shalwar kameez, and kurtas, Grace Fabrics is known for its quality. We also offer our clients fine fabrics, premium suits, exquisite designs, and unparalleled quality. Abbas Clothing House is happy to introduce this new fabric to its special collection. We now offer more options for our customers. With the new fabric, you will definitely stand out! A new collection of men's fabrics has just arrived at Abbas cloth house. For those who wish to be special and exclusive, this fabric is perfect.